Description
✅【Study & Compact】- This thick yet lightweight small dry erase board is strongly built with sturdy aluminum alloy frame, lasting for years. Measuring approx. 16″ ( L) x 12″(W) x 4/5″ (D), this portable hanging board can be carried to anywhere for optimal convenience. Package contents: 1 x white board, 5 x magnetic markers, 4 x round magnets
✅【Smooth & Magnetic】- The small white board provides a smooth writing surface that is great for smooth writing, drawing or leaving messages. You can easily mount small documents,photos,memos, messages or sheets on the board thanks to the magnetic board and 4 strong magnets
✅【2 Ways to Hang】- The magnetic whiteboard comes with 2 movable hooks on both vertical and horizontal sides, allowing board to hang in landscape or portrait mode on any walls or doors or just lay flat
✅【Easy to Erase】- The marker cap features a build-in eraser for quick and convenient erasing. The white board's magnetic writing surface requires minimal cleaning care to ensure the best performance and resist ink staining and ghosting
✅【Versatility】- This small white board can be used at home, school or office, great for homeschooling, making lists, keeping track of meal plans, recipes, drawing, studying, recording daily plan, playing counting, and much more. It is the first choice for kids, clerks, teachers, tutors and students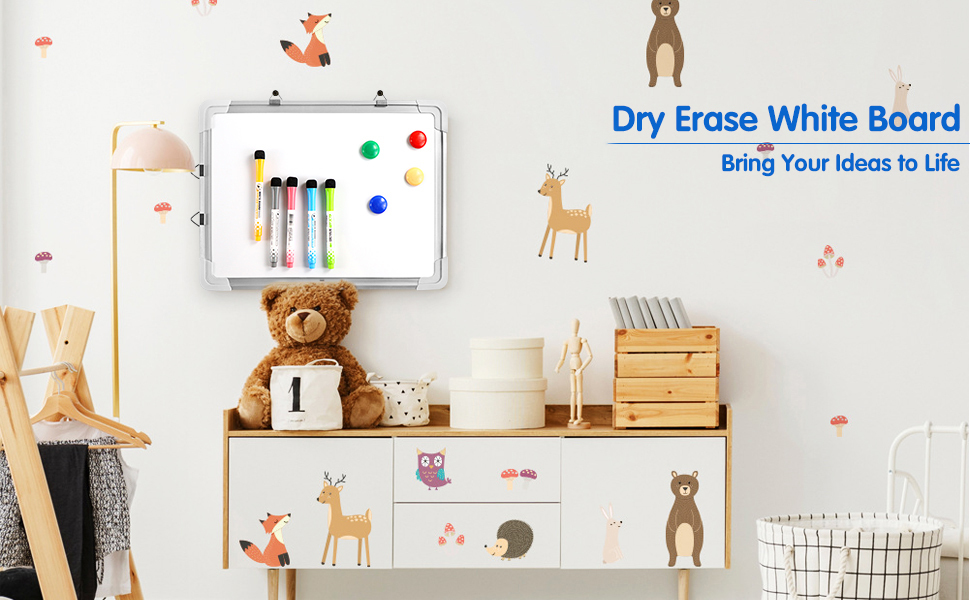 Keep Track of Your Greatest Idea – Your Best Dry-Erase Board
From home to office, this small white board brings you the smoothest writing experience while eliminating paper waste, allowing you to easily jot down list-to-do, ideas, messages, important notes and more. Board can be hung vertically and horizontally to fit your space best. 5 magnetic markers come with build-in erasers at ends for quick and easy erasing. 4 magnets are great for pining photos, white sheets, recipe, documents and more.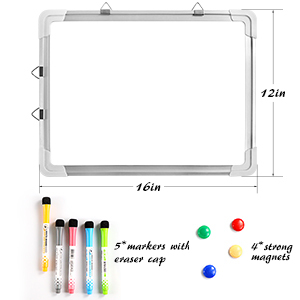 Size: 16″ ( L) x 12″(W) x 4/5″ (D)

 Package included:
1 X whiteboard
5 X markers with erasers
4 X round strong magnets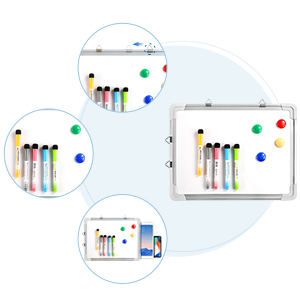 Movable Hangers
This magnetic whiteboard has 2 slideable hangers at the top and one side respectively, allowing board to hang horizontally or vertically on walls or doors for different writing requirements or just to be laid flat.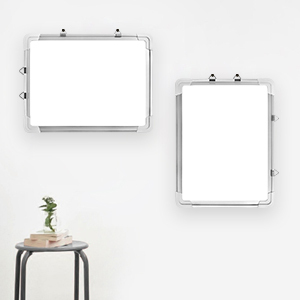 Durable Aluminum Alloy Frame
Sturdy aluminum alloy frame fits in well with the modern styling that is popular in homes and offices, while making the board last longer.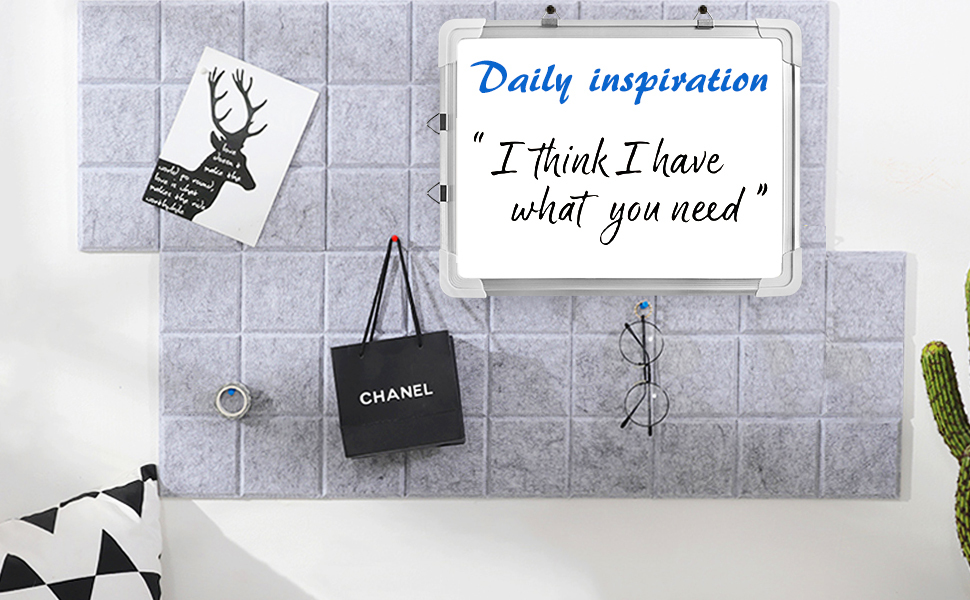 Related products