18Pcs Ninja Tree Climbing Holds and 6 Sturdy Ratchet Straps for Kids
This set has everything (apart from your shoes) that simplifies rock climbing setup but not sacrifices safety, including 18 climbing grips in 5 colors (green/yellow/blue/green/brown) and 6 heavy-duty buckle belts( 9.8ft/piece)
Description
【SAFETY FIRST, QUALITY BEST】- The nonslip plastic resin climbing rock, which has weight capacity around 230lbs, keeps your little one safe all the way up. Durable nylon belt holds well against rough bark and lasts longer
【18-PIECE COLORED CLIMBING HOLD SET】- This tree climbing holds has everything (apart from your shoes) that simplifies rock climbing setup but not sacrifices safety, including 18 climbing grips in 5 colors (green/yellow/blue/green/brown) and 6 heavy-duty buckle belts( 9.8ft/piece)
【NO HASSLE TO DRILL, JUST BUCKLE UP】- Requires no drill and just buckle them up around a tree according to the instruction included. Setup can be done within minutes. If you've got any further question with installation, please feel free to reach us
【BOOST KIDS' MENTAL & PHYSICAL HEALTH】- Kids stick to the phone/TV day and night? Get our tree climbing holds, kids off electronics, fall in love with rock climbing, confidence and endurance are built, and parents ease their minds
【CHILDREN LOVE IT, SO DO ADULTS!】- Find a ROBUST tree (not a vulnerable one) at your backyard, front yard, park, or anywhere, securely wrap the belt with holds around the tree and get the fun rolling! Great for both adults and children aging 3 and up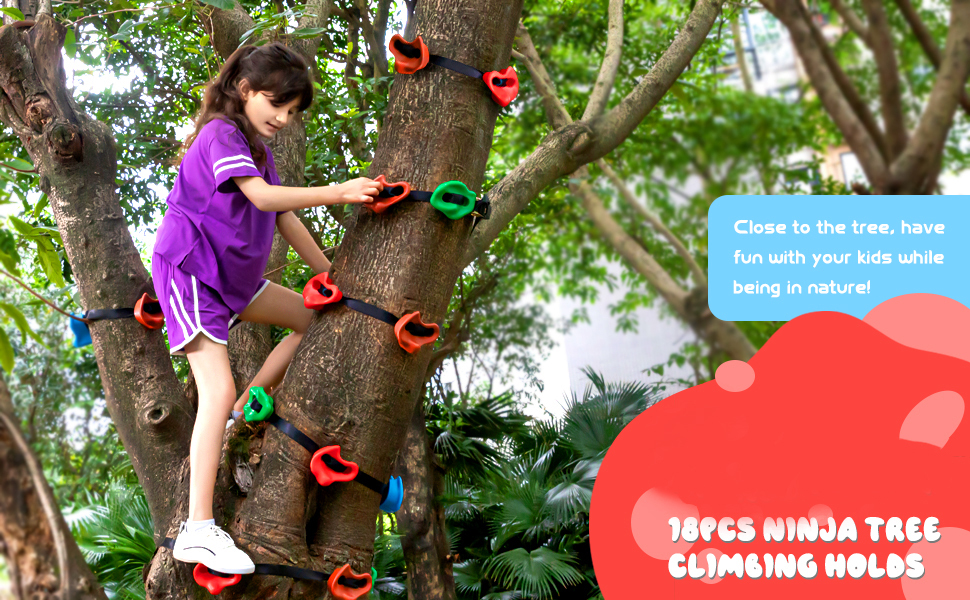 Make Your Day
Get bored at home? Our tree climbing hold set is your simplest way to embrace the nature, exercise muscles and win great fun.
Highlights you may want to know:
-Hold weight up to 230lbs
-6 Wear-proof buckle belts
-Drill-free setup within minutes
-Nonslip textured climbing holds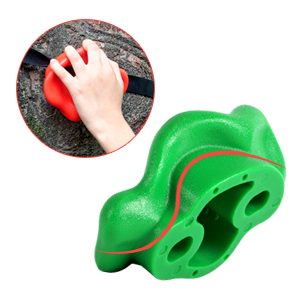 Ergonomic Climbing Holds
Designed according to human mechanism, they are comfortable for kids to grip without any sharp edge that hurts hands.

Nonslip fine texture ensures secure foot support and hand grip while climbing.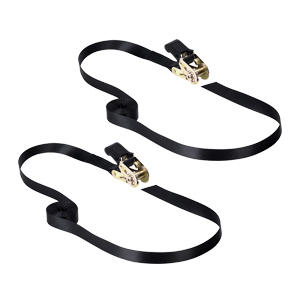 Nylon Ratchet Straps
3 times durable than others and withstand wear and tear on coarse bark.

Measures 9.8ft long and fits trees of most diameters. 6 straps allow you to create 6 'rungs' at a time.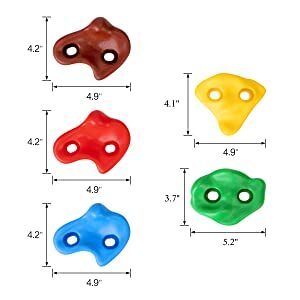 5 Vibrant Colors + 3 Shapes
5 vivid colors (red/blue/green/yellow /brown) spark children's interest to climb on, while beautifully decorating your climbing wall.

Comes in 3 different shapes to increase the difficulty of climbing.

Entertained & Beneficial
Promotes kids' strength, patience, balance flexibility, and endurance while having fun.
Tree-friendly Climbing
How does climbing a tree without stepping on his 'face'? Set these climbing holds up, and you can climb on the holds without damaging the tree.
Great for Adults and Children
Not just for children aging 3+, they also supports adult weight without issue. Just enjoy the family quality time together!
Related products