Description
【2-Pack Whiteboard Set with Accessories】- Nothing can beat this Handheld Dry Erase Whiteboard Set that includes 2 magnetic whiteboards (16"x 12"), 10 dry erase markers pen with eraser-capped (Black, Red, Blue, Green, Yellow), 8 round magnets, 2 EVA erasers, 2 removable pen Holders. Keep one for home use or for outdoor activities use! They'll be your best buy ever
【Compact Design & Smoothest Writing】- Each aluminum frame whiteboard measures 16''x12'' and is compact enough to carry around. This scratch-resistant magnetic dry erase whiteboard has smooth and durable surface, easy for for writing, doodling and wiping off
【Magnetic Erasers & Markers】- The magnetic erasers and markers can easily hold to the whiteboard surface without a eraser holder needed, thus saving space while increasing convenience. With magnetic erasers and markers, you'll never lose them again
【Sturdy Construction & Vertical & Landscape Arrangement】- Lightweight aluminum frame and anti-collision whiteboard are durable for long term use. The handheld magnetic whiteboard can be vertically or horizontally put against a wall as you need
【Multiple Function】- Perfect for brainstorming, write down your grocery or shopping lists or your all of a sudden idea. Great for office, school , home, teaching use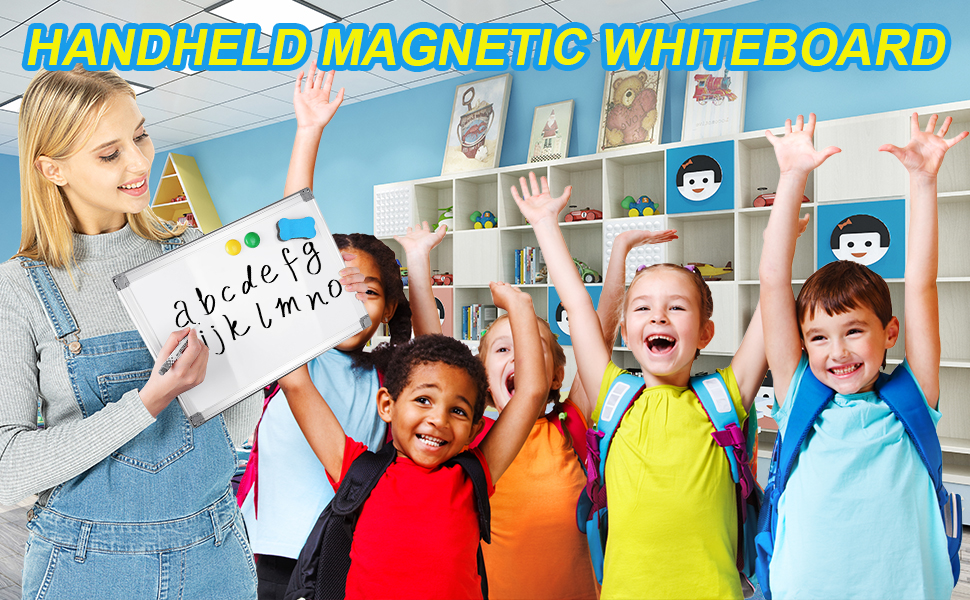 Description
Want to write down everything from your mind but without waste of paper?
You need a whiteboard for daily life! It helps capture every flash idea, improve meeting efficiency, make to-do lists, work plan, demonstration or brainstorming. Whether used in school, homeschooling, home, dorm or the office, this is the perfect sized, quality whiteboard for you!
2-Pack Whiteboard Set with Accessories
Size: approx. 16''x 12'' for each whiteboard
Total Weight: 1.3 kg for 2 whiteboards
Package included:
2 x Whiteboards
10 x Dry erase markers pen with eraser-capped (Black, Red, Blue, Green, Yellow)
8 Round magnets
2 Erasers (blue)
2 Removable marker holders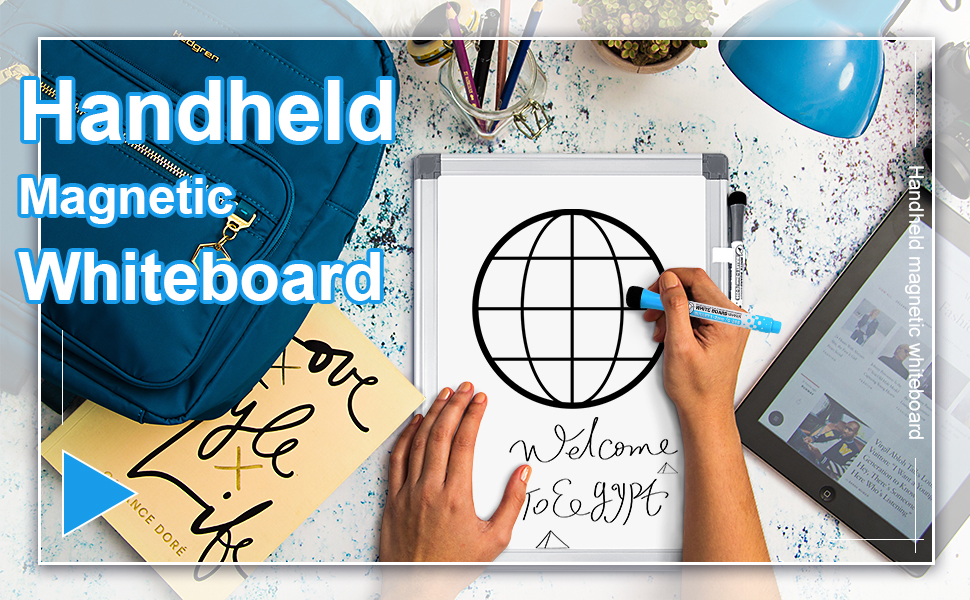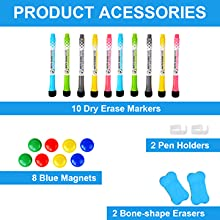 2PCS Whiteboards: Whiteboard doubles, marker doubles, magnet doubles and eraser doubles. They are perfect for home, office use and interaction game!
Accessories Included: Comes with 5 colors 10 magnetic markers, each with an eraser on the cap and 2 magnetic erasers that can automatically hold to the whiteboard without an eraser holder needed.
10 Round Magnets for Non-Mark Holding: Not as leaving glue mark as adhesive tape, these 10 strong magnets helps firmly hold sheets on the whiteboard, such as message note,
Detachable & Movable Marker Holder: The bone-shaped eraser conforms to hand shape for comfortable grip and can easily wipe off contents without leaving shadow of the marker.
Related products