Description
【Take Children's Safety as Priority】- Textured plastic resin rock climbing holds with weight capacity up to 230 lbs; Weatherproof hardware lasts years after years; Robust handles for easy grasp and increased security
【20-Piece Set with Handles】- This colored rock climbing kit includes 20 climbing grips, 40 bolts, 40 weld nuts, 40 washers, 1 Allen wrench and 2 handles, making setup quite eas
【Easy Installation (Hardware Included)】- Instruction and all hardware are included for easy and quick assembly. 2.8''-long bolts for easy mounting on any deck wood thick up to 2 inches
【Off the Phone, Let's Climb】- Set up a climbing wall in/outside your house with our climbing holds, kids are sure to fall in love with climbing, their health improved, confidence built, balance ability boosted and family bond enhanced
【Great for Indoor & Outdoor】- These rock climbing holds can be attached to indoor walls for all-weather fun or outdoor play sets or walls for a more natural fun experience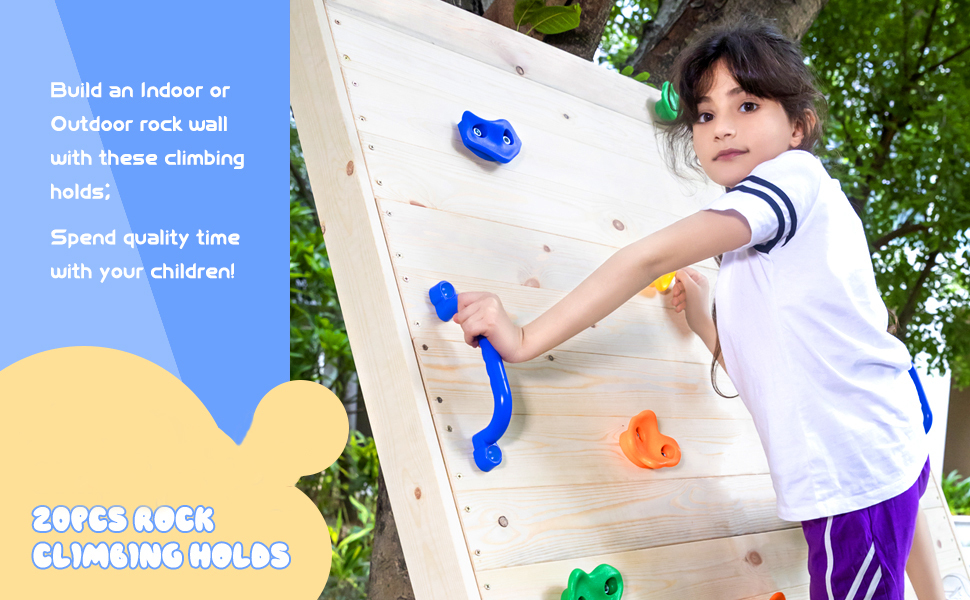 20PCS Climbing wall Hold Set
Prioritizes Safeness, Builds Confidence, Boosts Health
Rock climbing is your greatest way to keep children off the electronics, and play outside. These colorful rock climbing holds stir up kid's interest to play, which promotes their strength and endurance.
Package includes
20 climbing holds; 40 bolts; 40 weld nuts; 40 washers; 1 Allen wrench; 2 climbing handles.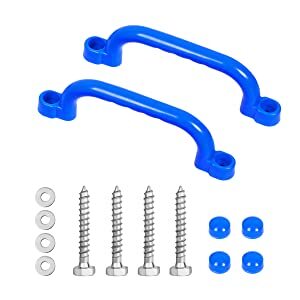 2 Robust Safety Handles
Designed with finger grooves under for easy and comfortable grip.

Allow for easy transition on and off of the climbing wall.
Related products