Description
【Tripled Protection, Increased Safety】- Nonslip resin holds with max. weight capacity of 230 lbs; Sturdy stainless steel hardware for weather protection; Ultra thick polyester rope for additional support; All is made to keep your little one safe all the way
【25-Piece Set with Climbing Rope】- This complete set includes 25 climbing grips, 50 bolts, 50 weld nuts, 50 washers, 1 Allen wrench and 1 climbing rope (9.8ft)
【Easy Installation (Hardware Included)】- Instruction and all hardware are included for easy and quick assembly. 2.8''-long bolts for easy mounting on any deck wood thick up to 2 inches
【Off the Phone, Let's Climb】- Set up a climbing wall in/outside your house with our climbing holds, kids are sure to fall in love with climbing, their health improved, confidence built, balance ability boosted and family bond enhanced
【Great for Indoor & Outdoor】- These climbing holds can be attached to indoor walls for all-weather fun or outdoor play sets or walls for a more natural fun experience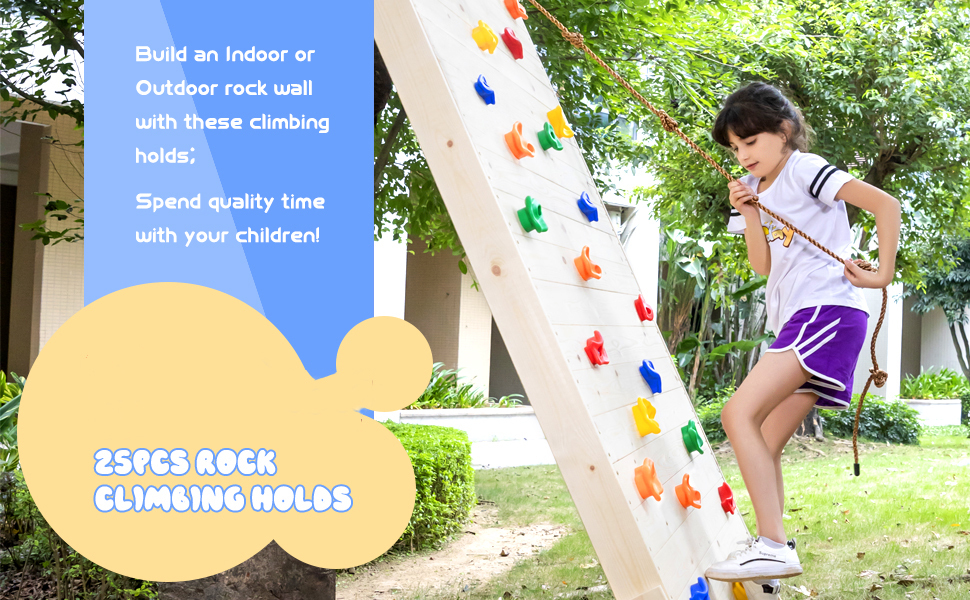 25PCS Climbing Hold Set
Prioritizes Safeness, Builds Confidence, Boosts Health
Rock climbing is your greatest way to keep children off the electronics, and play outside. These colorful climbing holds stir up kid's interest to play, which promotes their strength and endurance.
Package includes
25 climbing holds; 50 bolts; 50 weld nuts; 50 washers; 1 Allen wrench; 1 climbing rope(9.8ft) .

Benefits Kids Get from Climbing
Build up strength and confidence

Develop eye-hand coordination, patience and skill-solving ability

Keep kids active and happy.
Ergonomic Groove
Designed to fit children's hands to provide firm and comfortable grip while climbing.

Textured surface offers great traction to ensure no hand or foot slip when you climb.
Indoor & Outdoor Climbing
Set up a climbing wall in your in your home, basement, garage, attic or children's room. Kids can also enjoy climbing fun even when it rains/winds outside.

Great climber addition to ninja play set, tree house, jungle gym, monkey net, climbing wall or swing set.
Related products