Description
【SUPPORT WEIGHT UP TO 230LBS】- These rock climbing kit are molded with quality plastic resin, with each holding weight up to 230 lbs, safely supporting kids or adults to climb up and down
【SKID- & WEATHER- & FADE- RESISTANT】- Nonskid textures on the surface provide great traction, largely reducing the risk of kids' falling off. It stands up to harsh rain, sunlight, wind, and won't fade easily over time
【COMPLETE ACCESSORIES FOR EASY INSTALLATION】- Step 1. drill holes on the plywood. 2. Line up the holes on plywood with those on the climbing wall holds, insert bolts and washers into the holes. 3. Screw into the nuts from the back of plywood. 4. Tighten the bolts with the hexagon wrench included. Package Includes: 25 x rock wall grips, 50 x 2.8'' bolts, 50 x washers, 50 x nuts, 1 x hexagon wrench
【GREAT FOR INDOOR & OUTDOOR】- Set these rock climbing holds in children's room or playroom to let your little ones play happily anytime or on a play set/tree house/ jungle gym to get them closer to nature. Use them to enjoy your cherished family time with your kids!
【KIDS STAY FIT WHILE PLAY】- These climbing rocks come in 3 different shapes, with 5 bright rainbow-like colors, easily attracting children's to play with, so you kids can involuntarily exercise their strength, agility and confidence while climbing
Have you ever troubled with finding a fun activity for you and your kids? We'd like to say that ROCK CLIMBING is a great choice.
Help children exercise their strength, endurance, balance, agility, flexibility and enhance their confidence.
Encourage boys and girls to get active, improve kid's concentration, focus and learning abilities.
It's a mix of exercise and fun. Having a good time with your children, grand children instead of being couch potatoes.

KEEP KIDS FIT AND FUN
Designed specifically with kids in mind: bright colors, fun shapes and skin-friendly texture make our set a great hit with your children and grand children.
Ideal swing set accessories and jungle gym accessories. Building a rock climbing wall for your little kids with imagination is really interesting and challenging.
· √ Great Quality
· √ Easy to Install
· √ Exercise and Fun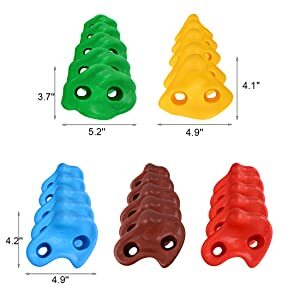 5 Colors + 3 Styles
The 25 climbing rocks come in 5 bright, vivid colors and 3 styles. Casually attach them to a plywood to create a beautiful "rainbow" wall, attracting kids to climb on and keeping them fun for hours.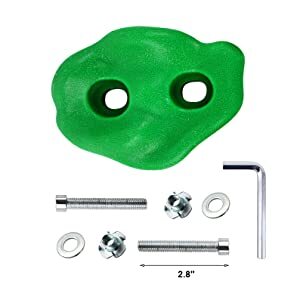 Stainless Steel Accessories
Stainless steel bolts, washers, nuts and wrench provided stand up to harsh weather, like rain and snow.

2.8'' steel bolts can fit plywood thick up to 2 inches.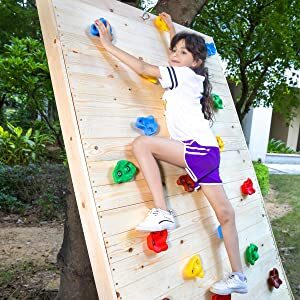 Indoor Rock Climbing
Set a climbing wall in the Children's room, living room, basement, or garage to keep kids fun no matter the weather outside.
Outdoor Rock Climbing
A great addition to play set, swing set, jungle gym, playground, park, backyard and so on.
Kids & Adults Climbing
Great for developing kids' balance, agility, motor skills and even creativity while having fun. It's a great way to exercise and spend quality time with your kids as well.
Related products