Description
【Sturdy & Nonslip (Children's Safety First)】- Molded by premium plastic resin, the ultra-sturdy rock climbing hold with frosted texture bears weight up to 230lbs and provides a secure foot/hand grip. Paired with stainless steel hardware to ensure weatherproof durability and longer life
【Complete 30-Piece Colored Climbing Hold Set】- This set has 30 climbing grips in 5 vibrant colors: red, blue, green, yellow and brown. A great number of hardware is also provided, including 60 weld nuts, 60 bolts, 60 washers and 1 Allen wrench
【Easy to Assemble & Disassemble】 – Instruction and complete hardware are included for easy installation, so you don't have to run to and spend more at the hardware store. The 2.8''-long bolts are suitable to be mounted on any plywood thick up to 2 inches
【Enjoyable & Beneficial】 – Mimics real rock climbing while ensuring maximum security that real one cannot grant. Promotes children's strength, perseverance, confidence, attention and patience and tightens the tie between parents and children, ideal for 3 years and up. (Attention: children should use it under the supervision of adult)
【Indoor & Outdoor Use】- These rock climbing holds are great for indoor and outdoor use, make a great addition to a piece of plywood, swing set, play set, jungle gym or other playground equipment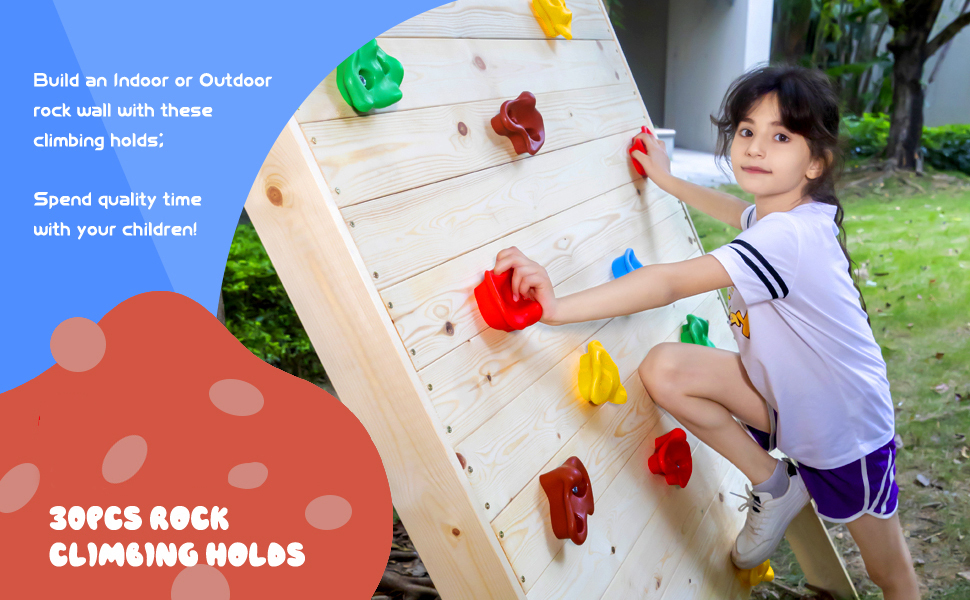 Robust Colored Climbing Holds
Keep Your 'Little Monkey' Confident and Happy
Get some thrilling fun in this special year! Our rock climbing grips set lets kids off the phone, and do exercise while playing ! 5 bright colors awaken kids' interest and they will certainly fall in love with climbing.
Why Us?
√ Weight capacity up to 230lbs
√ Upgraded strong plastic resin
√ Nonslip texture
√ Complete hardware included
√ Instruction included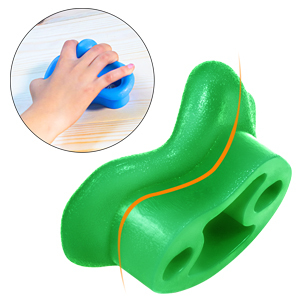 Ergonomic Shape
Intended for kids' little hands to fit to make sure they can firmly grip and foot on the holds.

Frosted texture provides superior grip for increased security, and no sharp edge hurts kids.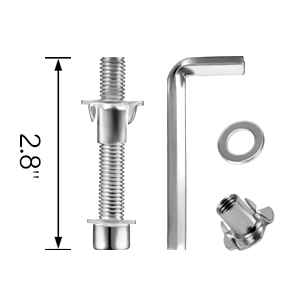 Complete Stainless Steel Hardware
Lasts longer and is able to tackle any harsh weather elements outside.

2.8''-long mounting bolts are great for installation on play sets with up to 2 inch wood.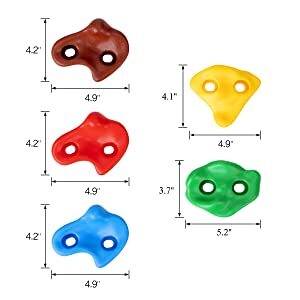 5 Vibrant Colors + 3 Shapes
5 Vivid colors (red/blue/green/yellow /brown) spark children's interest to climb on, while beautifully decorating your climbing wall.

Comes in 3 different shapes to increase the difficulty of climbing.

Indoor Climbing Fun
Get a plywood and build a climbing wall with these holds in your home, basement, garage, attic or children's room. Kids can enjoy climbing fun anytime.
Outdoor Rock Climbing
Add them to a plywood, play set, jungle gym or other playground equipment.
How does Climbing Benefit Kids?
Kids are born to climb. Climbing helps develop their problem-solving skills, boost up confidence, push their boundaries, exercise patience and endurance, improve health both physically and mentally.
Related products