Coulor Climbing Swing Rope Disc Swing Set for Backyard
The disc swing rope can be as easily installed by attaching carabiner and straps to the 6.5′ rope in a minute!  A great complement to a climber ladder, monkey bars, stand swing, gym rings, climbing rocks holds, safety handles or tire swing swivel
Description
✅【STURDY & DURABLE】- Made of Heavy duty materials, a stronger, durable design and 220lb weight capacity ensure this kid climbing rope swing will last you and your family for years.Add it to your current swing set, use it as a tree climbing rope, climbing rope ladder or a rope swing.
✅【ACCESSORIES INCLUDED】- Disc swing seat,climbing platforms,climbing rope, sturdy metal ring and locking carabiner with BONUS hanging strap for fast and easy connection. Before each use, please check whether the Hanging Strap is badly worn, and if it is badly worn, it is recommended to replace it in time.
✅【GREAT FUN】-This climbing rope with platform and swing seat is perfect for both swinging and climbing, providing lots of entertainment and exercise for boys and girls. It can also encourage your kid's balance, coordination, imagination and confidence!
✅【EASY INSTALLATION】-The climbing rope can be as easily installed by attaching carabiner and straps to the 6.5′ rope in a minute!  A great complement to a climber ladder, monkey bars, stand swing, gym rings, climbing rocks holds, safety handles or tire swing swivel
✅【PERFECT GIFT】-Our disc swings with platforms is made of STRONG and SAFE MATERIALS that is ASTM F963-17 approved .A nice gift of play for boys or girls, to LURE THEM AWAY FROM THE TV and PC. It is also the perfect DIY home swing set accessory for any backyard playground or outdoor playhouse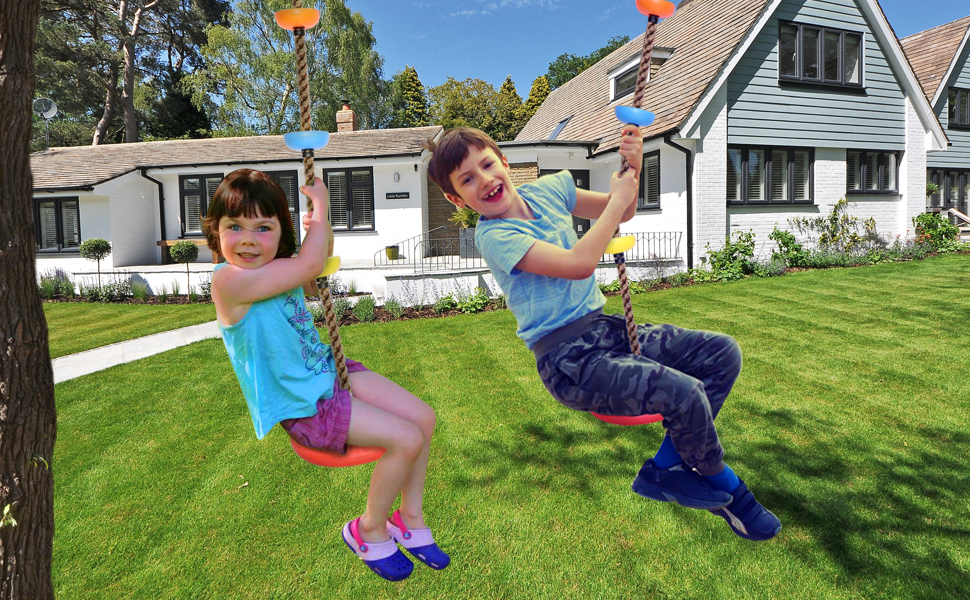 With its upgraded design, disc swing seat with platforms was made with premium climbing rope and extra longer swing belt.Your kids can stand or sit on to swing, hand and toe holds to help them climb, and 4 platform to grab and climb without aids.You may have lots of fun with this simple but wonderfully multifunctional climber.So encourage your children to go outside to swing through the air.
FREE HANGING STRAP
Come with FREE 21"hanging strap and 220 lbs weight capacity.
Hang it from swing sets or a tree branch ,easy to install without any tools.
GREAT FUN
This disc swing is perfect for both swinging and climbing.
It can also encourage your kid's balance, coordination, imagination and confidence!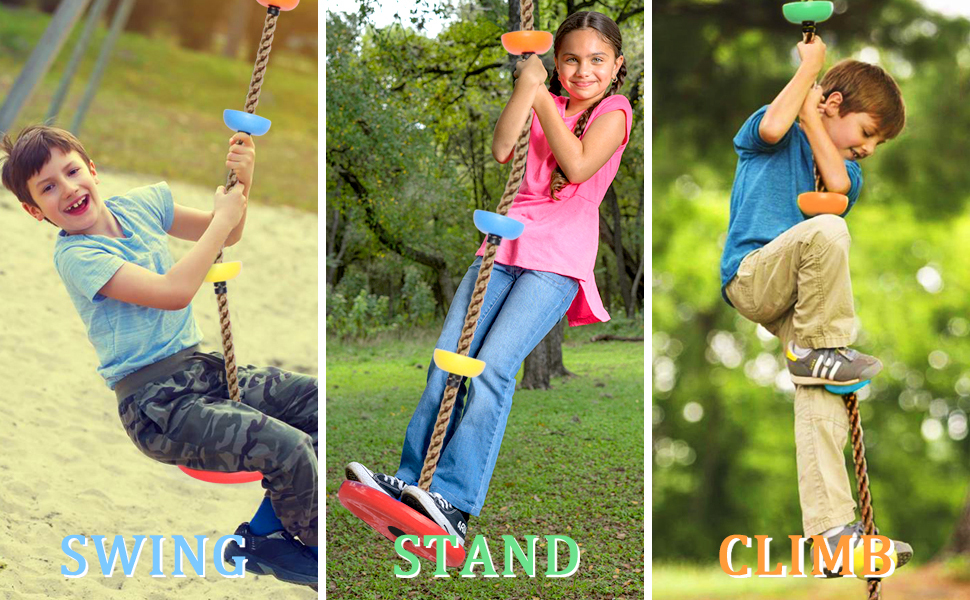 PACKAGE INCLUDES
1 x Swing set with platforms
1 x Locking carabiner
1 x Metal ring
1 x Hanging strap
Related products