Description
【Recycled Plastic Porch Swing】Molded from recycled high-density polyethylene. It has longer life with anti-aging feature and is lightweight, more wearable. Its high quality bring you comfortable sit and swing in all weather.
【Tree Swing Strap Hanging Kit】Upgraded multiple strands braided ropes, the load capacity of which is 500lb. Our swing ropes & galvanized climbing carabiners ensure the security when you enjoy swinging.
【Hanging Tree Swing Seat】You can hang it to residential / Outdoor use as you like, the installation is quite handy. Just hook it up on the tree.
【Ideal & Friendly Design】The durable tree swing seat is a nice gift for kids. Complete or update backyard /playground swing set.
【Play Together】Just enjoy a good time with your children when playing with the swing together. You will love them for their look and ease of applying and your kids will have endless fun swinging back and forth.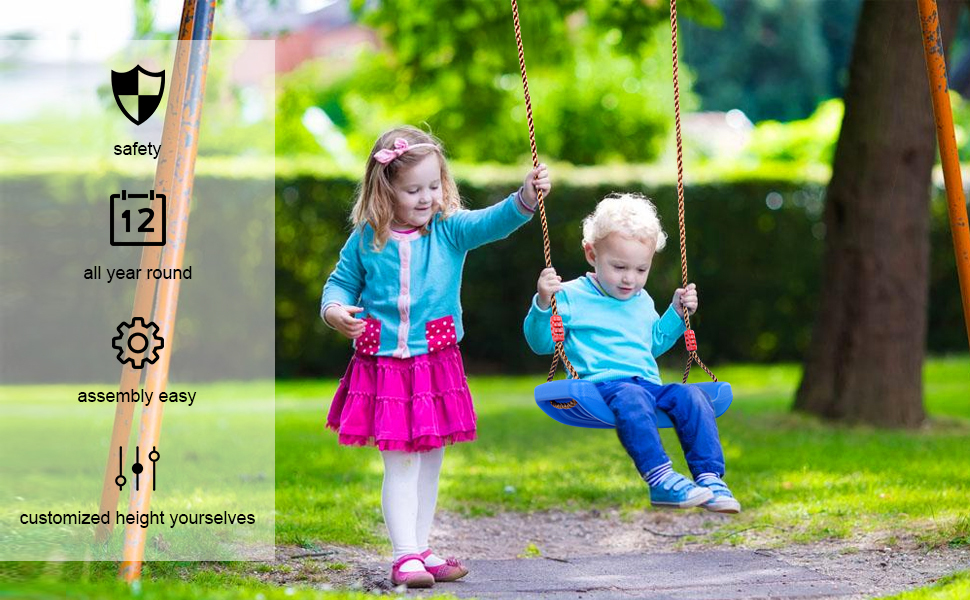 Tree Swing For Backyard Fun
Encourage kids to be active and play outdoors with this beautiful swing set. This child swing combines safety, style, comfort, and fun. Great for all year round, it features an easy to clean seat and a weather-resistant rope. Assembly is simple and straight forward, just need you to find a sturdy place to hang it. Specifically designed for children 5 years old+. The durable anti-slip swing seat can be adjusted for a customized height. Strong steel carabiners are strong enough for safety.

Stable swing: Ropes and the seat form a triangle, will not split, tilt forward or backward.
Outside swing: Even put it outside, just need to wipe its surface, will dry easily after rain.
Swing fun: It has a high weight capacity and wide enough for an adult to use.

Related products