Pop Up Golf Chipping Net with 15 Training Balls and 2 Hitting Mats for Backyard Driving and Swing
The golf practice net went through thousands of tests of folding up and down and holds up well. It comes with earth stakes to securely anchor the golf net to the ground for high wind protection
Description
⛳【Complete 37-piece Set 】- This pop up golf chipping net includes 1 x golf net, 2 x putting mats, 15 x golf balls, 12 x anchors, 6 x golf tees and 1 carrying bag. The golf chipping net measures 32''(L) x 26''(W) x 20''(H) when unfolded and turns into a 13'' (Dia) flat circle when folding up
⛳【Sturdy & Anchorable】- The golf practice net went through thousands of tests of folding up and down and holds up well. It comes with earth stakes to securely anchor the golf net to the ground for high wind protection
⛳【3 Targets & Golf Like a Pro】- The golf practice net allows you to practise shots at home even like real golfing scene. 3-target design helps gradually boost accuracy and golfing skills while the deep side pockets easily catch any missed shot
⛳【Quick Setup & Takedown】- The golf training aid pops up in seconds when unfolded and collapses into a 13'' flat circle when not in use without taking up too much space
⛳【GOLFING ANYWHERE】 -Take golfing fun to your house, office, parties, school or backyard ! This 3D golf chipping net collapses in seconds to fit into a13'' round portable bag for flash storage and carrying. If you have any questions, please feel free to contact us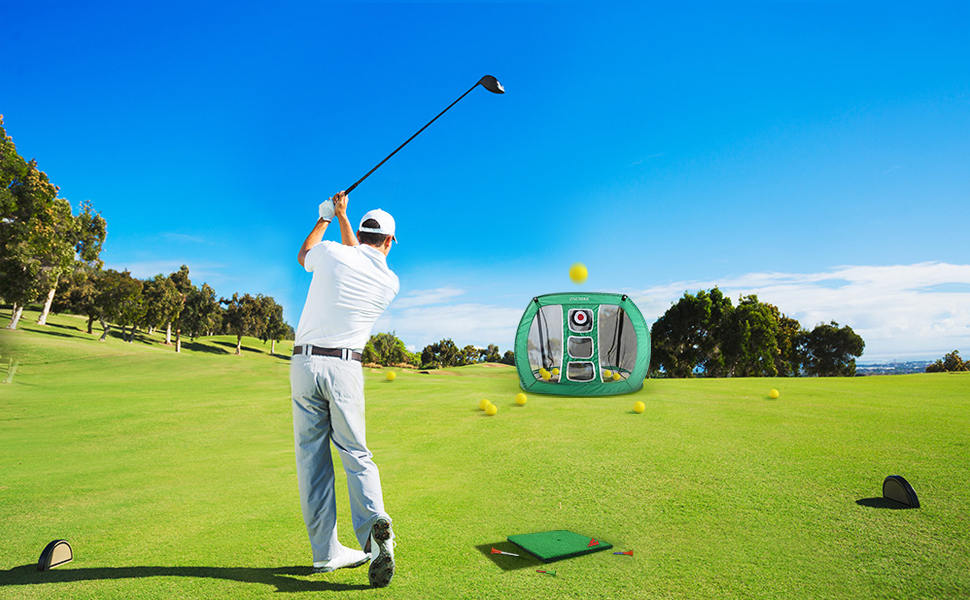 LET GOLF NOT NOBLE SPORT ANY MORE!
How to boost your golf chipping skills without big-ticket lessons or leaving the house? How to take exercise and keep fit without having to step out of house door? Buy an indoor golf chipping set like ZNCMRR's ! ZNCMRR's set helps gradually train your chip, pitch and lob shots with 3 targets and 6 tees of varying height. You can practise anywhere like a pro as the pop-up design makes snap folding and carrying. Drill at home, office, backyard or anywhere you want. You can still enjoy golfing fun even in the wind thanks to ground stakes included.
Targets with 3 Difficulties
Featuring targets at 3 levels, the golf net allows you to practise golf chipping, pitching and lobbing step by step, significantly improving your accuracy and skill.
15 Lightweight Plastic Practice Balls
15 pcs of 40 mm lightweight plastic golf balls bring you nearly real golfing experience even in a limited space while allowing for continuous practice without having to go back and forth to pick up balls.
2 Shock-absorbing Golf Mats
These two 12'' x 12'' golf mats are 0.6'' and 1.5'' thick respectively, which allows golf tees to easily stab into, and provide superior shock reduction, protecting arms and hands from injury due to improper force.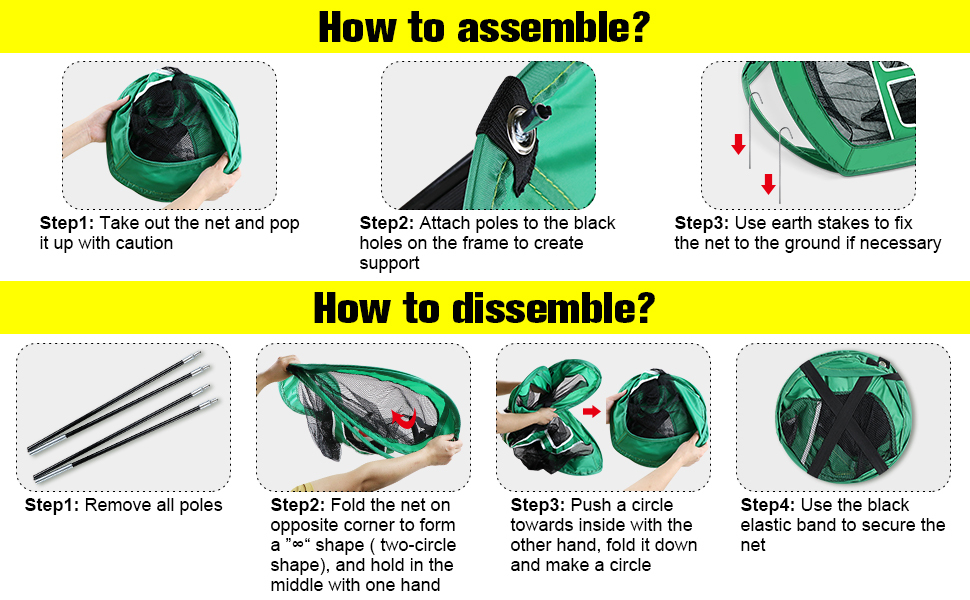 Package Included
1 x Golf chipping net
15 X Golf balls
6 X Golf tees
2 X Golf mats
12 X Earth stakes
1 x Carrying bag
1X Instruction
Related products